This PrestaShop addons helps administrator to show interactive notification regarding cookies used by store as per EU Cookie Law compliance on home page top and bottom positions with link to redirect cookie policy page, management from back-office with multiple options and show different message based on multiple store language.
Cookies enable websites to gather data about visitors and users.
This module helps to show different language information based on store language. For example German language store will have message in German and French language store will have message in French.
The Cookie Law is a piece of privacy legislation that requires websites to get consent from visitors to store or retrieve any information on a computer, Smartphone or tablet.
It started as an EU Directive that was adopted by all EU countries in May 2011.
If you own a website, you will need to make sure it complies with the law.
This module is a light, elegant and powerful solution that allows your shop to comply the European cookie law by informing users that your site has cookies, with a link for more information and understand customer message in their own language.
Features
– Support all browsers: Firefox, Chrome, IE, Safari, Opera etc.
– Light weight and fast loading.
– Facility to manage all text and configuration from back-office.
– Facility to manage positions top and bottom from back-office.
– Supports multiple language stores with different message based on language for each store.
– Addon is W3C compliant.
– Easy to use and install.
– SEO friendly.
– Support all browsers: Firefox, Chrome, IE, Safari etc.
– Light weight. (Smaller file size which load faster.)
– Increase sales, conversion rates and products promotions.
– Maintain existing customers & Attract new customers.
– Lower marketing expenses, exposure to potential customers, reach targeted audiences.
– Compatible with PrestaShop 1.5.x,1.6.x and 1.7.x.
– Multiple browsers compatibility(IE, Firefox, Opera, Safari,Chrome and Edge).
– Mobile,Tablet and all device compatible.
– Multi-language and Multi Store compatible.
– 24*7 Support
Benefits to Customers
– Customer's trust your products & services.
– Customers will be informed regarding use of cookie on website and information storage.
– Customers will get interactive popup notification in their language about store followed by cookie law.
– Customers will feel safe and secure using shop.
Installation
– Upload module zip file from back-office Module & Services menu tab
– Install module using install button.
– Visit module management page from back-office "More" area (section)
– Please watch module installation,configuration and how to use video on our YouTube channel.
– Module works without doing any change in existing PrestaShop file so that existing customization and theme change do not effect.
– This PrestaShop addon was developed for versions 1.5.x,1.6.x and 1.7.x, guaranteeing full compatibility with PrestaShop's ecommerce software.
– We provide free technical and feature support in installation,configuration, as well as access to updates available for this product.
BUY USEFUL PRESTASHOP MODULES

PrestaShop Addons Marketplace URL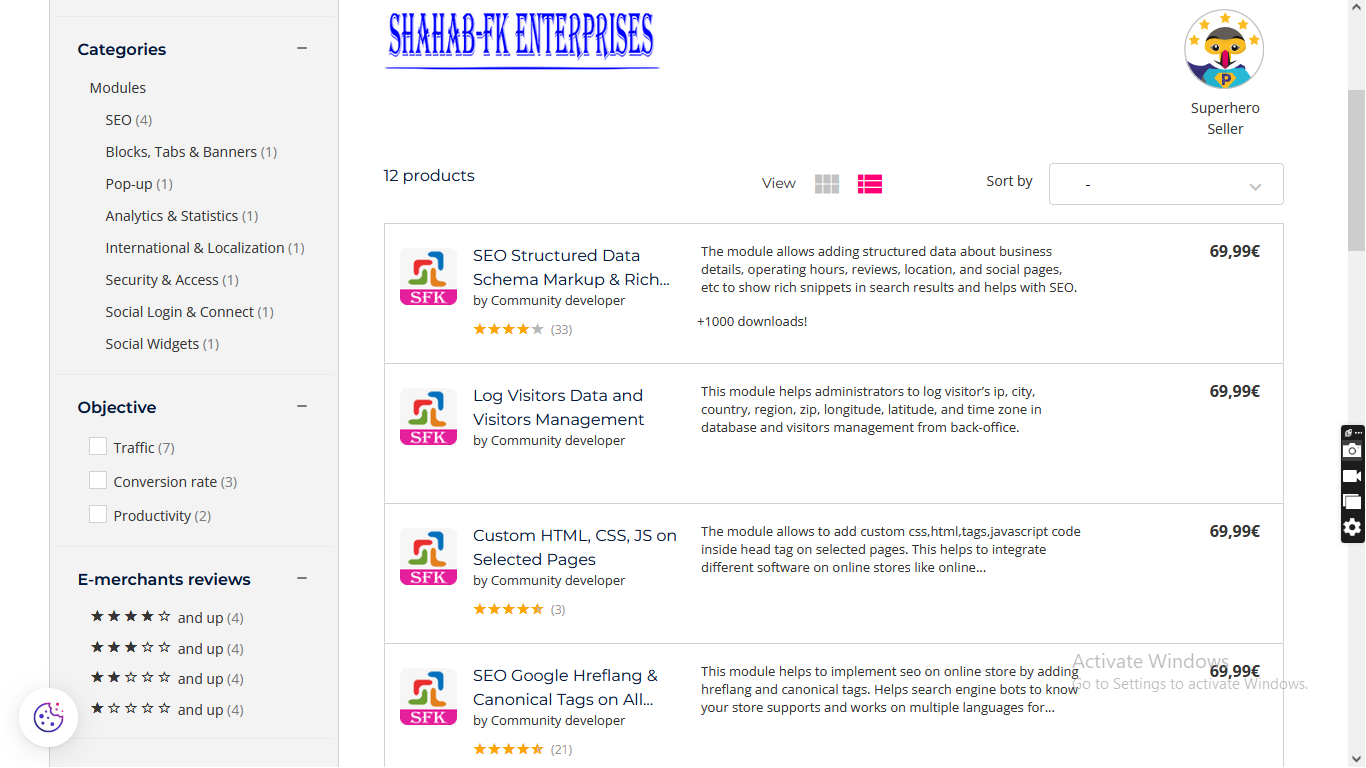 LIKE & SUBSCRIBE TO OUR CHANNEL.
https://www.youtube.com/channel/UCf3xPLKNIGTwj0Mxtln_CJg/videos