This PrestaShop addon helps to communicate with clients on your online store and turn visitors into customers. This helps to build a relationship that helps to implement search engine optimization of your online store by adding hreflang tag and helps search engine bots to know your store supports and works on multiple languages for different countries.
The hreflang tag (also referred to as rel=alternate hreflang=x) tells search engines which country a specific page is intended for, which language it is written in, and provides alternatives for the same page intended for other countries and languages.
It can also provide information on the default country and language if the search engine is unable to decide which version to present.
According to Google, it uses the rel=alternate hreflang=x attributes to serve the correct language or regional URL in
search results. Google and other major search engines will allow you to specify the languages and countries that pages on your international
website are catered to.
It is one of the many ways that Google determines the content that is presented to users in various different territories.
Features
– Easy to set up and works for countries all over the world.
– Helps in SEO (Search Engine Optimization) and search engine ranking.
– Improve online visibility and get targeted traffic.
– Compatible with PrestaShop 1.5.x,1.6.x and 1.7.x.
– Multiple browsers compatibility(IE, Firefox, Opera, Safari, Chrome, and Edge).
– Mobile, Tablet, and all device compatible.
– Multi-language and Multi Store compatible.
– 24*7 Support.
Benefits to Customers
– It helps customers to find store pages in their native country language and understand products.
– It helps to find online stores on search engines easily as visibility improved and using multilingual keywords.
– Customers trust online stores and feel comfortable.
Benefits to Merchants
– Stand out among competitors using better ranking and visibility on the search engines.
– An increase in traffic results in conversions and average order values.
– Cost-efficient and reduce expenses of hiring an expert to do the task.
– Increase store traffic results in an increase in sales.
– Expand market reach, helps in branding and awareness.
Installation :
Step 1: Upload module zip file from the back-office Module & Services menu tab. Module Manager area using the upload button. After the successful installation module menu, the link will appear in the left menu or top menu in the back-office more area.
Step 2: Install the module using the install button.
Step 3: Visit the module management page from the back-office "More" area (section) in the left menu in the back-office.
Step 4: The module installation process is very easy, how module configuration works can be seen in the demo instance.
Step 5: Please visit our demo instance for module configuration and usage demo.
– Module works without making any change in the existing PrestaShop file so that existing customization and theme change do not affect.
– We provide free technical and feature support in installation, configuration, as well as access to updates available for this product.
– Free support on installation, configuration, and customization as per store requirements, for example, new hook addition on your store.
OUR YOUTUBE CHANNEL URL
https://www.youtube.com/channel/UCf3xPLKNIGTwj0Mxtln_CJg/videos
BUY USEFUL PRESTASHOP MODULES

PrestaShop Addons Marketplace URL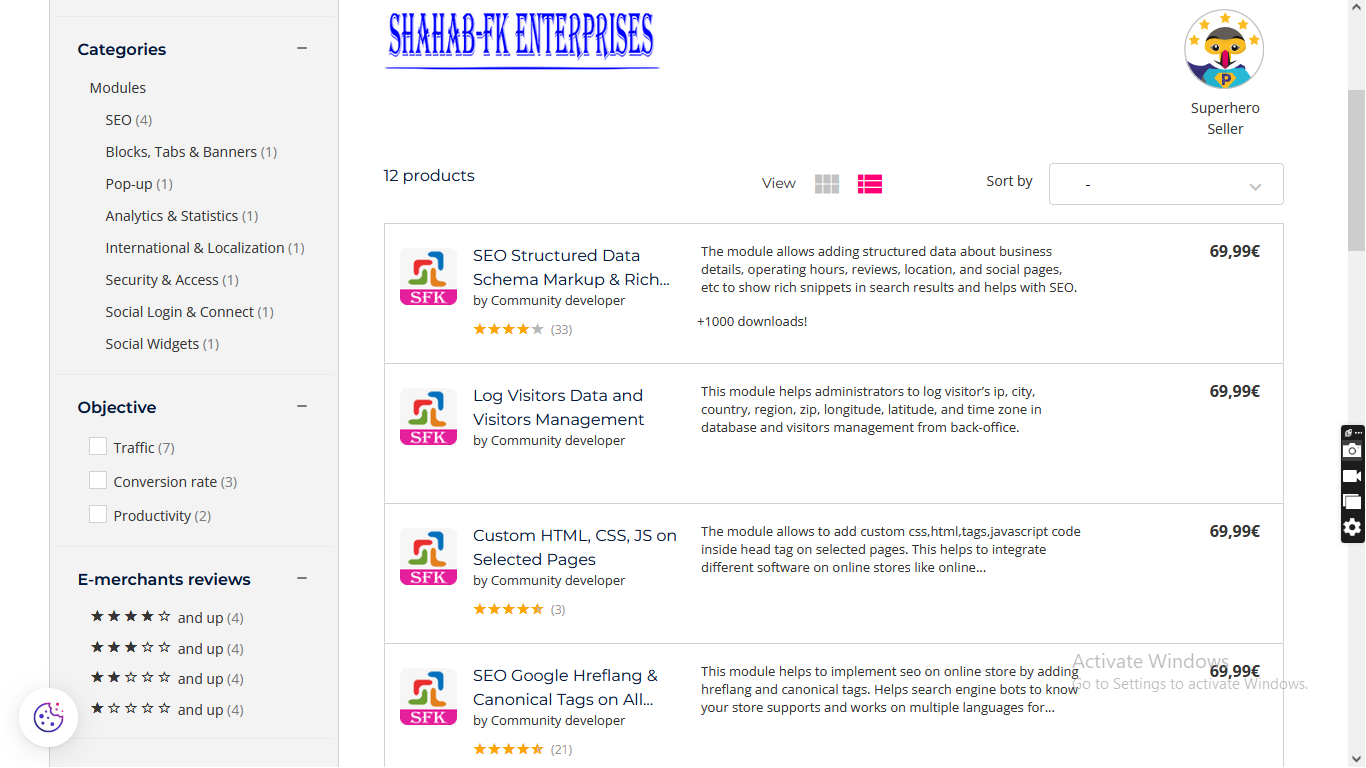 LIKE & SUBSCRIBE TO OUR CHANNEL.
https://www.youtube.com/channel/UCf3xPLKNIGTwj0Mxtln_CJg/videos