This prestashop addons available at prestashop marketplace helps administrator to integrate
statcounter web traffic analytics tool in prestashop store and helps to get detail information about store traffic from statcounter websites.
It is useful for any business with digital presence to analyses and measure the behavior of the visitors that come to their website. Web analytics measures things like where number of visitors, source of visit, pages viewed, and actions taken on the site, as well as things like page views, time spent on page, sources of traffic and visitor demographics and many other. There are several metrics that measured using web analytics but it is important that marketers focus on those reports which fulfill their business objective. And based on their analysis marketers should take immediate action for better results.
Analytics is a useful tool in optimizing your website performance by highlighting how users are interacting with your data. Not only does it allow you to understand how well your website is performing, but it provides insightful data about your visitors. You can use this data to your advantage when it comes to future marketing decisions, tailoring your B2B approach to give your customers exactly what they want.
Features
– Supports multiple browsers, operating systems and platform.
– Light weight for home page and fast loading.
– Easy interaction from back-office using ProjectID and Security Code.
– Measure Web Traffic
– Visitors Count
– Track Bounce Rate
– Identify Exit Pages
– Optimize Marketing Campaigns
– Identify Target Market
– Know Your Visitor Behavior- Know Your Traffic Source and Conversions
– See where you are losing customers
– Find out how to optimize your website
– Know your visitors
– Track where traffic is coming from
Installation
– Upload module zip file from back-office Module & Services menu tab
– Install module using install button.
– Visit module management page from back-office "More" area (section)
– Please watch module installation,configuration and how to use video on our youtube channel.
– Module works without doing any change in existing Prestashop file so that existing customization and theme change do not effect.
– This prestashop addon was developed for versions 1.5.x,1.6.x and 1.7.x, guaranteeing full compatibility with PrestaShop's ecommerce software.
– We provide free technical and feature support in installation,configuration, as well as access to updates available for this product.
– Create account on statcounter website, add your website URL and Get Project ID and Security Code from Stat counter Website and add in back-office from Administration => Web Traffic Analytics Tool menu option.
– Free installation, configuration and small customization.
Please visit website for details information about each extension , demo URLs and pricing information.
BUY USEFUL PRESTASHOP MODULES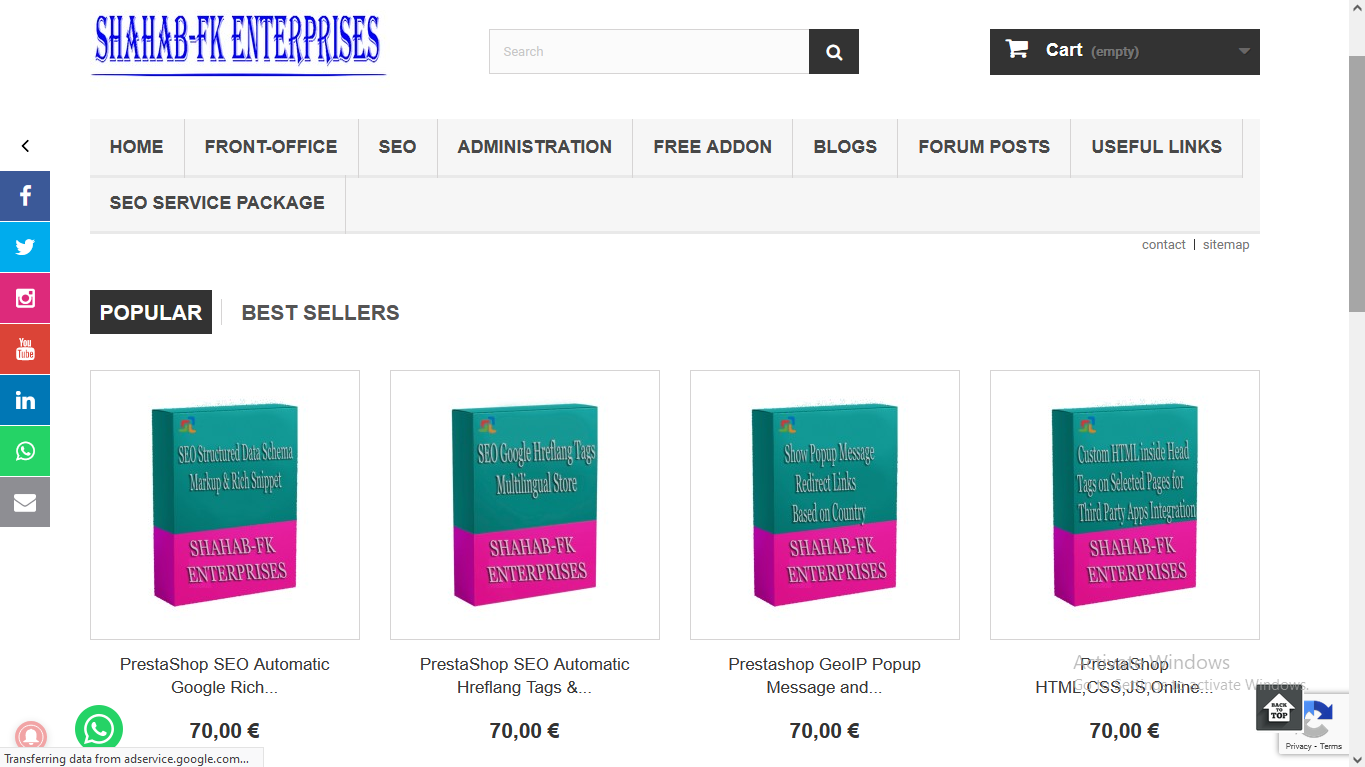 Prestashop Addons Marketplace URL