This prestashop addons helps to communicate with clients on your online store and turn visitors into customers.This helps to build relationship helps to add whats app chat support on online store and turn visitors into customers.This helps to build relationship with customers,provide personalized service and increase in sales.
WhatsApp officially announced that over 1 billion people use WhatsApp every single day. Those users also send over 55 billion messages every day.
Additionally, WhatsApp is no longer just for phones – there are now both Mac and Windows apps that have made WhatsApp officially multi-platform.
Customer visits online store and get solutions to their questions quickly from multiple devices phones and tablets.
Customer engagement is highly vital for any kind of business firm as they have begun using WhatsApp, a social networking app. WhatsApp offers direct communication between customers and business representatives through short but helpful messages. By incorporating WhatsApp into your marketing plan, you can respond swiftly to all the important queries of your loyal customers in no time.
As the smartphone users are increasing tremendously, we have a chance to associate with your target clients and customers, and produce the greatest leads for your business. With the help of WhatsApp, you are permitted to send interesting images and videos by creating your full marketing campaign exciting and engaging too.
WhatsApp is a magnificent tool for endorsing new varieties of your products or offers that are available on discounted rates. The process is similar for advertising where you can share eye-catchy e-brochures of your company, your valuable service with help of WhatsApp.
Features
– Helps in quick solutions to customer queries,relationship building,branding and marketing.
– Improve communication and get targeted audience.
– Easy to setup simply by adding phone number with country code.
– Compatible with PrestaShop 1.5.x,1.6.x and 1.7.x.
– Multiple browsers compatibility(IE, Firefox, Opera, Safari,Chrome and Edge).
– Mobile,Tablet and all device compatible.
– Multi-language and Multi Store compatible.
– 24*7 Support.
Benefits to Customers
– Helps customer to get solution of queries easily and quickly.
– Helps to get support in native language.
– Works on multiple phone devices,tablets and countries therefore customer get support internationally 24*7 from support team.
– Customer trust online store and feel comfortable.
Benefits to Merchants
– Stand out amongst competitors using better communication with customer's native language from single or multiple countries.
– Cost efficient and reduce expenses of marketing.
– Expand market reach,helps in branding and awareness.
– Helps in customer relationship building,online store marketing,branding and solutions to queries 24*7 comfortably using multiple device phones.
Installation
– Upload module zip file from back-office Module & Services menu tab
– Install module using install button.
– Visit module management page from back-office "More" area (section)
– Please watch module installation,configuration and how to use video on our youtube channel.
– Module works without doing any change in existing Prestashop file so that existing customization and theme change do not effect.
– This prestashop addon was developed for versions 1.5.x,1.6.x and 1.7.x, guaranteeing full compatibility with PrestaShop's ecommerce software.
– We provide free technical and feature support in installation,configuration, as well as access to updates available for this product.
BUY USEFUL PRESTASHOP MODULES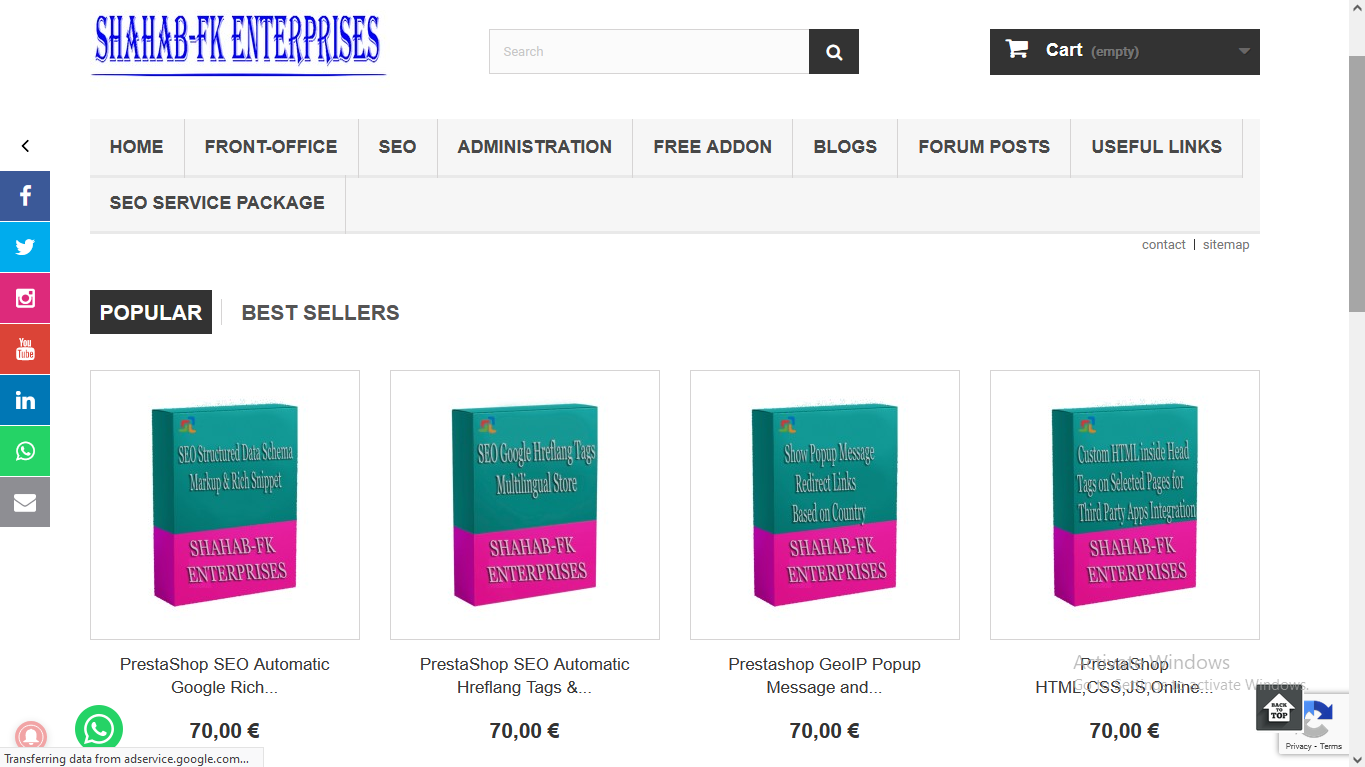 Prestashop Addons Marketplace URL