This prestashop addons helps to manage google adsense ads management from back-office and showcase in front-office on selected categories and languages.
This will help to earn extra money from your store traffic.
This module is easy to configure by simply adding adsence code from back-office from google website.
This module is a easy and suitable way to generate extra income from your store.
Helps in SEO of store and ranking in google search engine.
Features
– Show ads block on seleted category and language from back-office.
– Add Google Ads script information from back-office easily.
– Display Google text and banner ads in front-office block.
– SEO friendly.
– Support all browsers: Firefox, Chrome, IE, Safari etc.
– Light weight. (Smaller file size which load faster.)
– Increase sales, conversion rates and products promotions.
– Maintain existing customers & Attract new customers.
– Lower marketing expenses, exposure to potential customers, reach targeted audiences.
– Compatible with PrestaShop 1.5.x,1.6.x and 1.7.x.
– Multiple browsers compatibility(IE, Firefox, Opera, Safari,Chrome and Edge).
– Mobile,Tablet and all device compatible.
– Multi-language and Multi Store compatible.
– 24*7 Support
Benefits to Customer
– Customer will get suitable information based on country, location about various products and services from Google advertisement.
Installation
– Upload module zip file from back-office Module & Services menu tab
– Install module using install button.
– Visit module management page from back-office "More" area (section)
– Please watch module installation,configuration and how to use video on our youtube channel.
– Module works without doing any change in existing Prestashop file so that existing customization and theme change do not effect.
– This prestashop addon was developed for versions 1.5.x,1.6.x and 1.7.x, guaranteeing full compatibility with PrestaShop's ecommerce software.
– We provide free technical and feature support in installation,configuration, as well as access to updates available for this product.
– Example of Google ads script as below
Example adsense script as follows.
<script async src="//pagead2.googlesyndication.com/pagead/js/adsbygoogle.js"></script>
<!– Second Add Unit –>
<ins class="adsbygoogle"
style="display:inline-block;width:160px;height:600px"
data-ad-client="ca-pub-4273150513414821″
data-ad-slot="4540858793″></ins>
<script>
(adsbygoogle = window.adsbygoogle || []).push({});
</script>
<script data-cfasync='false' type='text/javascript' src='//p240213.clksite.com/adServe/banners?tid=240213_456396_0&type=slider&side=center&size=120×600&position=center'></script>
BUY USEFUL PRESTASHOP MODULES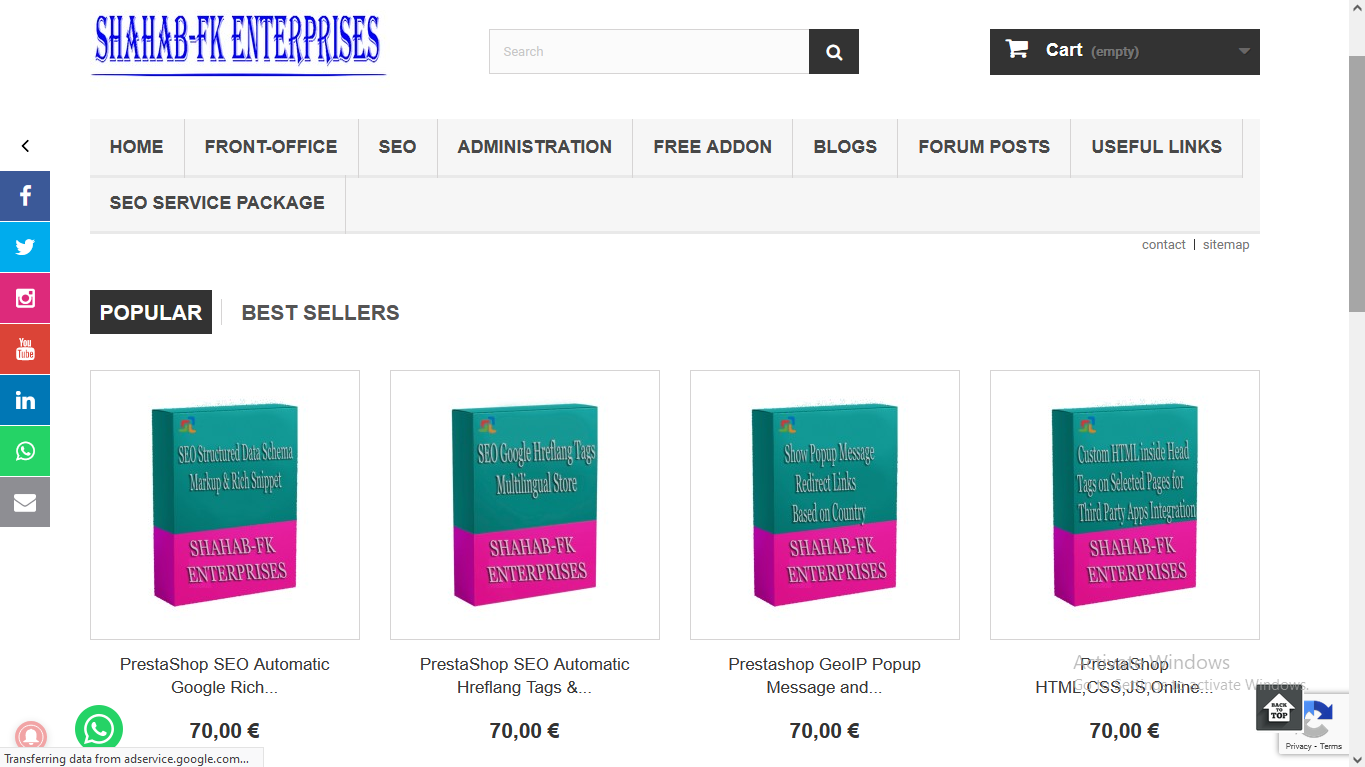 Prestashop Addons Marketplace URL