This prestashop addons helps administrator to translate your entire site in about 100+ languages, facilitate international sales and helps international clients to understand store in their language.
Simple act of translating your website will increase your traffic significantly.
It allows you to start making inroads into the 70% of the global population that doesn't speak English.
A multilingual store increases accessibility to potential clients. Not only does it increase your chances of attracting more clients, but it allows you to attract a more diverse clients.
Offering information and services in multiple languages builds credibility and makes your site look more professional. This prestashop addon makes your site friendlier to these potential clients, because people naturally prefer doing business in their own language.
Benefit of translating your website is an improved image and better branding.
Features
– Make your website instantly available in 100+ languages.
– This module expands your global reach quickly and easily.
– It helps in SEO rankings.
– Easy to use and configure.
– It can be hook in left, right block, header and footer positions.
– Good translation from Google.
– Support multiple browsers and operating systems.
– Light weight and fast loading on web page.
– SEO friendly.
– Support all browsers: Firefox, Chrome, IE, Safari etc.
– Light weight. (Smaller file size which load faster.)
– Increase sales, conversion rates and products promotions.
– Maintain existing customers & Attract new customers.
– Lower marketing expenses, exposure to potential customers, reach targeted audiences.
– Compatible with PrestaShop 1.5.x,1.6.x and 1.7.x.
– Multiple browsers compatibility(IE, Firefox, Opera, Safari,Chrome and Edge).
– Mobile,Tablet and all device compatible.
– Multi-language and Multi Store compatible.
– 24*7 Support
Benefits to Customer
– Customer will get suitable information based on country, location about various products and services from Google advertisement.
Merchant Benefits
This module is easy to use and install.
This module is a easy and suitable way to generate extra income from your store.
Installation
– Upload module zip file from back-office Module & Services menu tab
– Install module using install button.
– Visit module management page from back-office "More" area (section)
– Please watch module installation,configuration and how to use video on our youtube channel.
– Module works without doing any change in existing Prestashop file so that existing customization and theme change do not effect.
– This prestashop addon was developed for versions 1.5.x,1.6.x and 1.7.x, guaranteeing full compatibility with PrestaShop's ecommerce software.
– We provide free technical and feature support in installation,configuration, as well as access to updates available for this product.
Steps to get Google translation Widget code from Google.
[1].Open below URL in any browser
https://translate.google.com/manager/website/
[2]. Click on button "Add to your website now"
[3]. Add website URL and choose default language on next page.
[4]. Click on "Get Code" button to get widget code.
[5]. Copy and Paste script code snippets in above text area .')
BUY USEFUL PRESTASHOP MODULES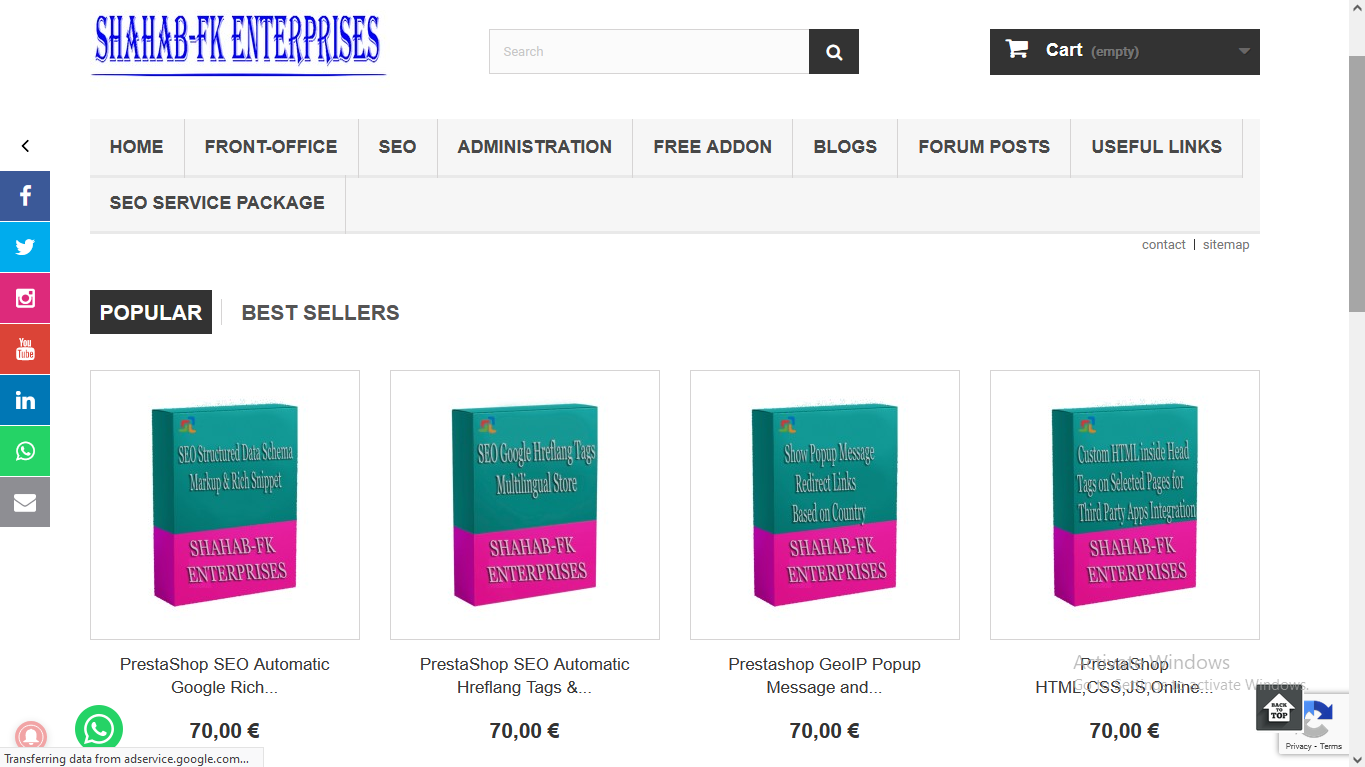 Prestashop Addons Marketplace URL