This PrestaShop addon helps to add structured data about business details, operating hours, reviews, location, and social pages, etc to show rich snippet in search results and help in SEO.
Google search works hard to understand the content of a page. We can help by providing explicit clues about the meaning of a page to Google by including structured data on the page. Structured data is a standardized format for providing information about a page and classifying the page
Structured data refers to information with a high degree of organization, such that inclusion in a relational database is seamless and readily searchable by simple, straightforward search engine algorithms or other search operations.
Structured data is added directly to a page's HTML markup. Search engines use structured data to generate rich snippets, which are small pieces of information that will then appear in search results.
Rich Snippets is the term used to describe structured data markup that site operators can add to their existing HTML, which in turn allows search engines to better understand what information is contained on each web page.
JSON-LD is the format that Google regularly recommends. It helps in online store quality in the eyes of Google. Its important SEOs understand its usefulness and impact.
In 2009, Google further refined snippet results by introducing rich snippets. Rich snippets serve as a sneak preview for listings on the SERP and can supplement search query results with more detailed information. This additional information can help searchers gauge which website might best answer their search query.
Features
– Helps in Search Engine Optimization. Boost Your SEO by Using Schema Markup.
– Helps in improvement in ranking in all search engines.
– It helps in an increase in web traffic.
– Helps to get targeted traffic and related store products and services.
– Provide greater information to search engines to improve their understanding of your business and of the content on your website.
– It can act as an authentication for a business address if it matches the
– Google Business Listing, in doing so improves local SEO.
– Implementing rich snippets can have a huge impact on how your pages perform in the search engines.
– It helps to increase visibility in the search results
– It helps to improve click-through rates and attract more targeted traffic.
– Fully responsive 100%.
– Compatible with PrestaShop 1.5.x, 1.6.x and 1.7.x.
– Multiple browsers compatibility (IE, Firefox, Opera, Safari, Chrome, and Edge).
– Mobile, Tablet, and all devices compatible.
– Multi-language and Multi Store compatible.
– 24*7 Support.
Benefits to Customers
– Drawing a customer's attention to your relevant result.
– Providing instant information as related to their query.
– Customers trust online stores and feel comfortable.
– Helps in support and communication in the customer's native language.
– Customer queries and clarifications get a fast solution.
– It helps to increase customer understanding and knowledge about the store.
Benefits to Merchants
– Higher Chances of Ranking on SERPs
– Better Click through Rates
– Better Marketing Opportunity
– More Qualified Leads
– More Credibility
– Reduce expenses
– Increase sales
– Improve customer service and loyalty
– Customer convenience
– Competitive advantages
– Expand market reach
– Proactive outreach
– Reports and analytics
– Real-Time Convenience to Customers
– Cost-Efficient
– Stand out Among Competitors
– Eye-catching results => drawing a search user's attention from your competitor's listings to your own result.
– Potential CTR increases => Possibly increasing click-through rates and lowering the chance of the user bouncing as they see more information about the page before clicking through (there is also the potential to deter users if the additional rich snippets information shows something they were not looking for).
– Providing quality results => offering results that could match the users intent more closely. On the downside, if the informational benefit of the rich snippet satisfies the users search query, it might eliminate the need to click through for further engagement.
– Develop Deeper Customer Relationships
– Increase in Conversions and Average Order Values
Installation :
Step 1: Upload module zip file from the back-office Module & Services menu tab. Module Manager area using the upload button. After the successful installation module menu, the link will appear in the left menu or top menu in the back-office more area.
Step 2: Install the module using the install button.
Step 3: Visit module management page from the back-office "More" area (section) in the left menu in the back-office.
Step 4: The module installation process is very easy, how module configuration works can be seen in the demo instance.
Step 5: Please visit our demo instance for module configuration and usage demo.
– Module works without making any change in the existing PrestaShop file so that existing customization and theme change do not affect.
– We provide free technical and feature support in installation, configuration, as well as access to updates available for this product.
– Free support on installation, configuration, and customization as per store requirements, for example, new hook addition on your store.
OUR YOUTUBE CHANNEL URL
https://www.youtube.com/channel/UCf3xPLKNIGTwj0Mxtln_CJg/videos
BUY USEFUL PRESTASHOP MODULES

PrestaShop Addons Marketplace URL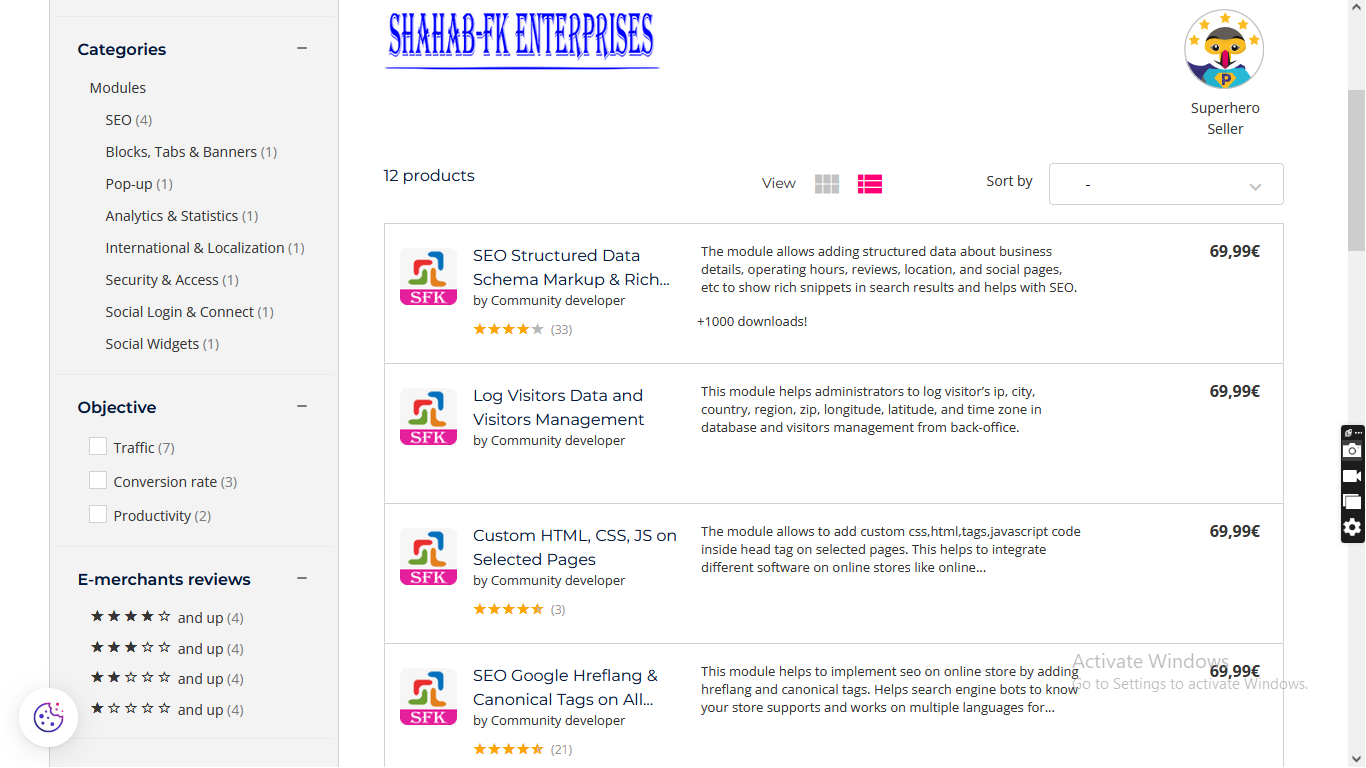 LIKE & SUBSCRIBE TO OUR CHANNEL.
https://www.youtube.com/channel/UCf3xPLKNIGTwj0Mxtln_CJg/videos