This prestashop addons helps to communicate with clients on your online store and turn visitors into customers.This helps to build relationship helps in verification of online store with different search engine using meta tag verification like Google, Yahoo, Bing, Alexa, Yandex,Majestic SEO,Mywot,Global Sign,Norton Safeweb,Flippa,Pinterest and many more.
Verification is the process of proving that you own the site that you claim to own. Verification associates a specific user with a specific property.
The module makes verification process simple so that webmaster no longer need to edit themes template or change DNS entries of domain from web hosting cpanel.Simply add meta tag code from webmaster tool into module management page from back-office.
Features
– Helps in SEO (Search Engine Optimization) and search engine ranking.
– Improve online visibility and get targeted traffic.
– Easy to setup simply by adding meta tag from back-office.
– Compatible with PrestaShop 1.5.x,1.6.x and 1.7.x.
– Multiple browsers compatibility(IE, Firefox, Opera, Safari,Chrome and Edge).
– Mobile,Tablet and all device compatible.
– Multi-language and Multi Store compatible.
– 24*7 Support.
Benefits to Customers
– Helps customer to find store online on search engine easily as visibility improved.
– Customer trust online store and feel comfortable.
Benefits to Merchants
– Stand out amongst competitors using better ranking and visibility on search engine.
– Increase in traffic results in conversions and average order values.
– Cost efficient and reduce expenses of hiring expert to do the task.
– Increase store traffic results in increase in sales.
– Expand market reach,helps in branding and awareness.
Installation
– Upload module zip file from back-office Module & Services menu tab
– Install module using install button.
– Visit module management page from back-office "More" area (section)
– Please watch module installation,configuration and how to use video on our youtube channel.
– Module works without doing any change in existing Prestashop file so that existing customization and theme change do not effect.
– This prestashop addon was developed for versions 1.5.x,1.6.x and 1.7.x, guaranteeing full compatibility with PrestaShop's ecommerce software.
– We provide free technical and feature support in installation,configuration, as well as access to updates
available for this product.
BUY USEFUL PRESTASHOP MODULES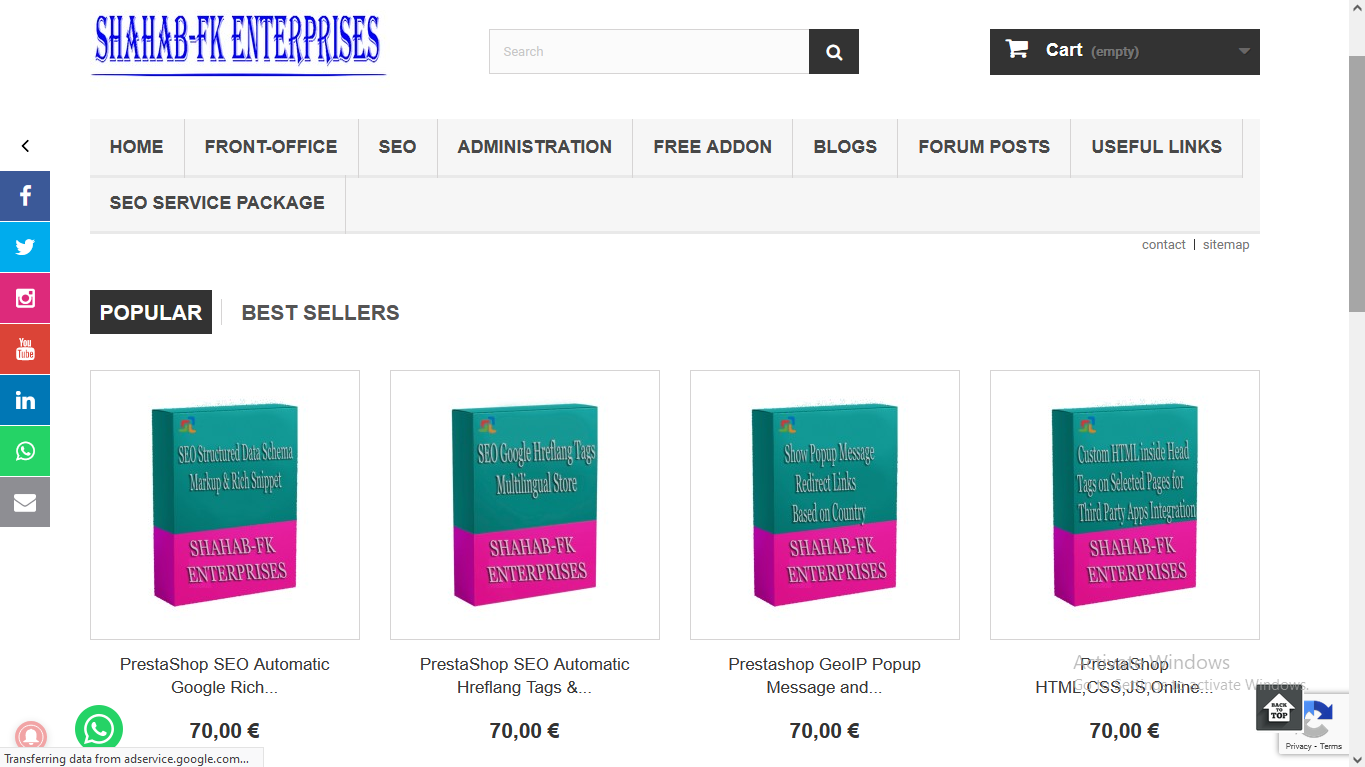 Prestashop Addons Marketplace URL