This PrestaShop addons helps administrator to log visitors ip, city, country, region, zip, longitude, latitude and time zone in database and visitors management from back-office.
This will help to get detail about each visitor. This data helps to take business decision, know seo and marketing campaign output.This module helps to get visitors information inside store back-office instead visiting online analytics and statistics websites like google analytics, statcounter etc.
The loading time of script from analytics websites take time on home page and good speed on home page important for seo. This module helps to overcome this issue.
The main goal of any visitor management system is to properly and effectively process and track guests.
Features
– Visitors management facilitates security via details information about each visitor.
– Electronic or written record of every guest who has visited your site.
– Designed to improve security by providing a digital record of who visit on-site.
– Support multiple browsers and operating systems.
– Helps to find targeted audience visits and conversions in sales.
– Help in analysis,statistics,output of seo and marketing campaigns.
– Alternate option instead using analytics script from Google Analytics and Statcounter.
– Easy to setup and works for countries all over world.
– Helps in SEO (Search Engine Optimization) and search engine ranking.
– Improve online visibility and get targeted traffic.
– Compatible with PrestaShop 1.5.x,1.6.x and 1.7.x.
– Multiple browsers compatibility(IE, Firefox, Opera, Safari,Chrome and Edge).
– Mobile,Tablet and all device compatible.
– Multi-language and Multi Store compatible.
– 24*7 Support.
Benefits to Customers
– Helps customer to find store pages in their native country language and understand products.
– Helps to find online store on search engine easily as visibility improved and using multilingual keywords.
– Customer trust online store and feel comfortable.
Benefits to Merchants
– Stand out among competitors using better ranking and visibility on search engine.
– Increase in traffic results in conversions and average order values.
– Cost efficient and reduce expenses of hiring expert to do the task.
– Increase store traffic results in increase in sales.
– Expand market reach,helps in branding and awareness.
Installation
– Upload module zip file from back-office Module & Services menu tab
– Install module using install button.
– Visit module management page from back-office "More" area (section)
– Please watch module installation,configuration and how to use video on our YouTube channel.
– Module works without doing any change in existing PrestaShop file so that existing customization and theme change do not effect.
– This PrestaShop addon was developed for versions 1.5.x,1.6.x and 1.7.x, guaranteeing full compatibility with PrestaShop's ecommerce software.
– We provide free technical and feature support in installation,configuration, as well as access to updates available for this product.
BUY USEFUL PRESTASHOP MODULES

PrestaShop Addons Marketplace URL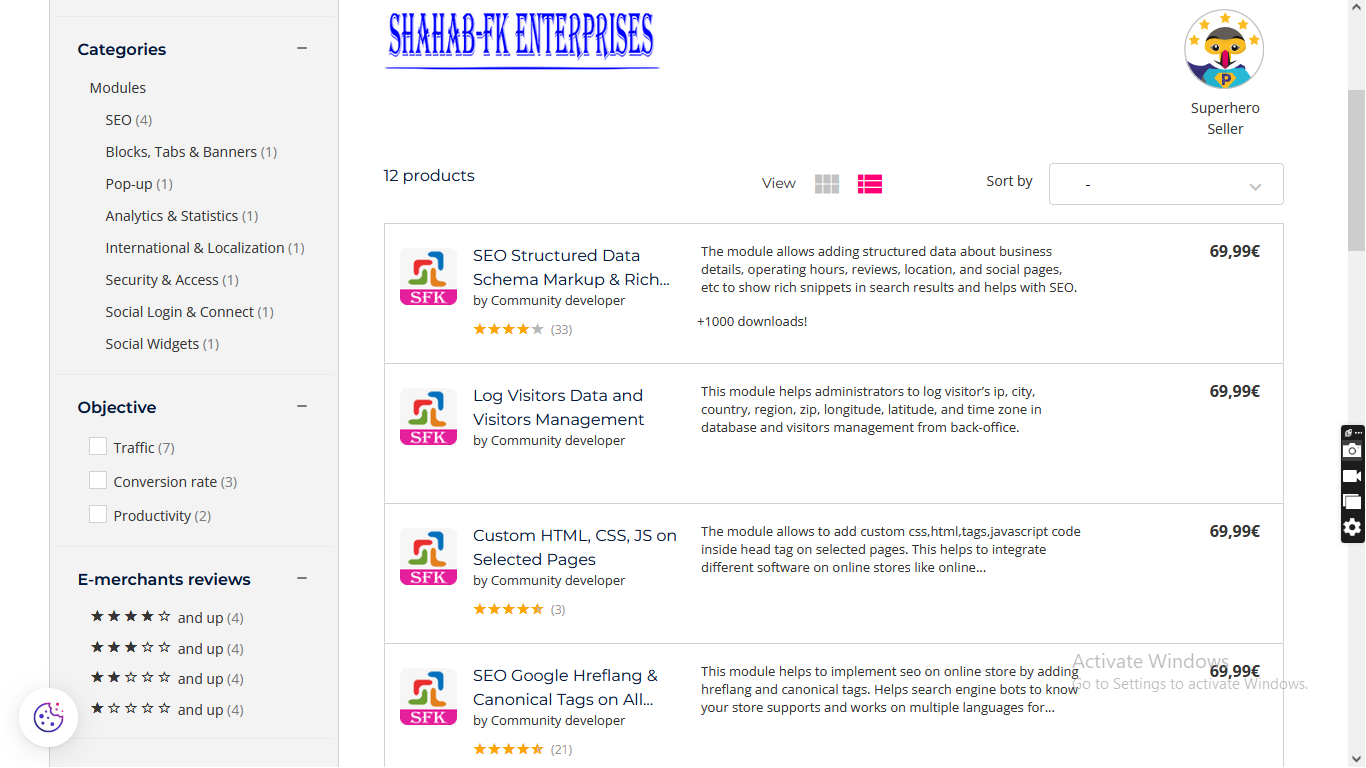 LIKE & SUBSCRIBE TO OUR CHANNEL.
https://www.youtube.com/channel/UCf3xPLKNIGTwj0Mxtln_CJg/videos